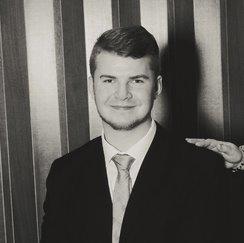 Christoph Nienaber
---
IT Specialist & Developer
About
I'm an employed IT Specialist and part-time developer. My main occupation at work is the administration of a Windows environment (~400 virtual servers & ~500 clients) including Active Directory, Exchange 2013 and a small Citrix XenApp 7.X infrastructure. My main interests are automization, simplification and security. Following my interests I also developed some small internal applications that solve specific challenges and/or add convenience to the daily work life.You can find some projects I created on my GitHub page (link below).
I am really a tech-guy by heart and fascinated by various aspects and fields of technology.

On the developing side of things I am currently home on the Microsoft .NET stack with C#. I have some experience in Windows Forms, WPF, ASP.NET MVC, ASP.NET Web API, Xamarin.Forms and Xamarin.Android. My current Focus lies on Xamarin.Forms.
I started learned programming with Visual Basic .NET, Java, ABAP and Scripting in 2011.

Get in touch!
Contact
If you want to get in touch with me I suggest you to follow me on Twitter and write me there. You can also take a look at my other online profiles (buttons below)
I live in Bremen (Germany)